Disclaimer: There are affiliate links in this post. At no cost to you, I get commissions for purchases made through links in this post.
People all around the world love to drink coffee because of its refreshing taste and because it makes us active and feels less tired by increasing our energy levels. Most American households prefer coffee for almost 3 cups a day. Everyone loves to drink coffee in different ways. Some people love it cold while some love it black. Today we are going to discuss hot coffee and which coffee makers are the best at preparing hot coffee for you.
If you browse the market you will easily find different varieties of coffee makers available with different features and designs. All of these are capable of making coffee but each of them is unable to brew extra hot coffee for you. The Specialty Coffee Association of America suggests that one should brew coffee with a minimum water temperature of 90-96 C or 195 to 205 F.
If you want to enjoy excellent hot coffee then you will have to buy a coffee maker that can reach this temperature. As long as your coffee maker can reach this temperature it will guarantee you some amazing coffee. Drinking a hot coffee is a whole different and relaxing feeling. Many people wonder about the coffee makers that prepare the hottest coffee.
Types of coffee makers and the ones that make the hottest coffee.
If you wish to have the coffee that is the hottest then you'll probably need a coffee maker that serves brews around 200 degrees.
There are a lot of choices when we talk about coffee makers
You might be thinking about which style makes the hottest coffee.
Redline MK 1 8 cup Coffee Brewer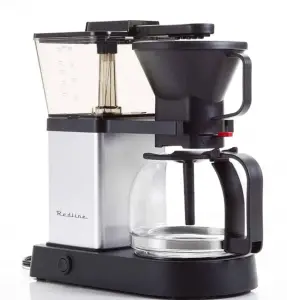 This coffee maker does not require any special introduction as you can simply find its name anywhere when you search for the hottest coffee makers. It's better than other average coffee makers and superior in terms of making coffee and its features.
Amazing design
The Redline MK1 is a beast with an amazing design and there are many other perks you can rave about. The design itself makes it an eyecatcher. This is one of those coffee makers that has been certified by the Specialty coffee association of America.
Performance
Its performance is very satisfying and it brews great coffee. These are some of the coffee makers that will let you enjoy your favorite coffee. The coffee maker can hit the temperature range between 195 to 205 Fahrenheit. It has been designed in such a way that it can make hot coffee. It also has a pre-infusion mode in it, unlike other coffee makers, which is also the USP for the product. This model ensures the coffee grounds release the trapped CO2 in it and provides us with the best and nice flavor.
Technivorm's Moccamaster Cup-one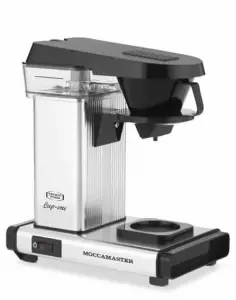 The Moccamaster Cup-one is a beautiful single-serve coffee maker that has always amazed us.
Performance
The best thing about this product is that it provides us with what we exactly want. It is easily able to brew coffee at the right temperature and the required ones. It can easily hit temperatures that are ranging from 195 to 205 degrees Fahrenheit.
The specialty of this coffee maker is that it can easily deliver coffee at the best and expected flavor. It also has a pre-infusion cycle which helps the maker to prepare the coffee ground before starting the brewing process. The brewing process takes a little longer that is four minutes but ensures you the best taste.
Construction
The most important characteristic of this product is its high-quality construction. It has been handmade in the Netherlands and is constructed using durable materials which makes it very strong. The body is made using metal housing.
It has few plastic parts but all of them are BPA-free. It has an outstanding quality which in turn gives a five-year warranty. The design is so amazing that you can easily place it in your kitchen and it will be a beautiful addition.
Cuisinart CPO-850 Coffee Brewer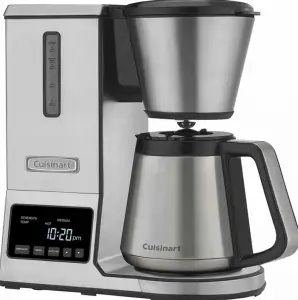 It's not a surprise that Cuisinart made it to the list as it is one of the finest coffee maker companies and has amazing and satisfying reviews as it offers great quality products. The CPO-850 is one of the coffee makers approved by the SCA. This is the best coffee maker if you are looking for the flavor of the manual pour-over brew.
Features.
Cuisinart is one of those brands that offer the best quality and features in its products. The CPO-850 is a fully programmable product that comes with a timer of 24 hours that allows you to set when you want it to start.
It has also got a brew-pause feature that allows you to get a cup even before the brewing cycle is complete which lets you know the taste. This coffee maker helps you control the kind of coffee you want. You can decide between hot and extra hot.
Durability
Durability is one of the most important aspects of Cuisinart products. The CPO-850 is made of brushed stainless steel which makes it durable and elegant at the same time. It also has a warranty for more than a year.
Conclusion
Being a coffee lover can add to a lot of health benefits. Coffee has been the favorite drink for a large number of people. We explored the world of hot coffee in the article and the best coffee makers with their features and uses. We also learned about the best temperatures to serve a coffee and about the different types of coffee makers available.
Even though you love the art of slow brewing with compassion and expectation, these coffee makers are must-haves in a home or office with employees full of coffee lovers. I think you'll find the best machine for all your requirements in the above-mentioned list, but even if you select another model, you'll find the best coffee maker if you keep in mind the important components.
Once you buy the hottest coffee maker with all the important features, then you may be prevented from making the most common faults while buying the coffee maker and will end up buying the best coffee maker that provides you with the hottest coffee.