Cooking is an art, but it is not rocket science. It can be taught to just about anyone who has the drive to learn and motivation to hold their own in the kitchen, from foodies who want to take their love for food to the next level to busy parents working from home who want to consistently prepare healthy and delicious food for the family. Moreover, technology has made cooking easier and a lot more enjoyable, and can develop amateur chefs out of novices.
To help you get a better understanding of how to level up your cooking, RestaurantStella.com shares the following tips.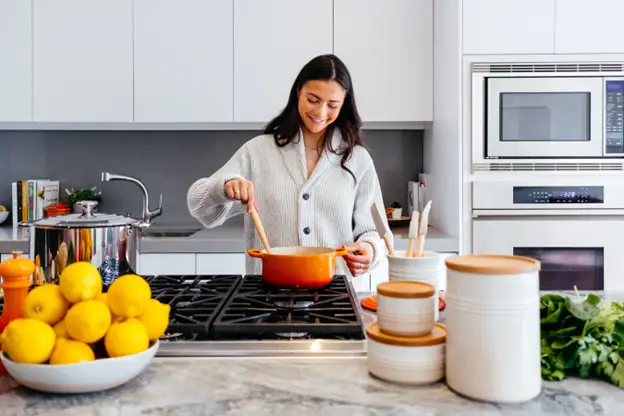 Take advantage of the internet
Gone are the days when mom's or grandma's cookbook was the be-all and end-all of great cooking. Today, a quick internet search will already yield countless free recipes that are as mouth-watering as they are easy to follow, even to the uninitiated. There are resources for both beginners and the experienced alike, as well as multiple opportunities to elevate palates with new ways to source and prepare food. A tablet or a similarly portable gadget will undoubtedly be a great companion in the kitchen as it's handy enough to fire up those recipe apps and websites without taking up precious counter space.
Documenting your culinary journey is a great way to expand both your knowledge and appreciation of food. With the prevalence of video-streaming sites such as YouTube, it has never been easier to share your favorite recipes with a wide audience. Starting a vlog about your cooking experiences is an exciting way to explore the world of food, trying new dishes and revisiting favorites. You can document every step from shopping for ingredients, to making the dish from scratch and even taste-testing the finished product. It's also a fantastic way to engage with viewers and learn from their own experiences, creating an interactive community that encourages experimentation in the kitchen.
Make cooking and meal schedules
Schedules are a great way to take your cooking to the next level. Planning out which dishes you want to make ahead of time helps you stay organized and makes it easier to shop for ingredients. This also allows you to come up with creative recipes using items you already have on hand and avoid food waste. Schedules can also be used to plan meals that fit into different dietary needs, such as vegetarian or vegan options. By taking the time to plan out meals in advance, you can ensure that everyone has something delicious and nutritious to enjoy.
With this schedule maker, you can easily design a cooking schedule that suits your needs. By setting up a weekly or monthly rotation of meals and ingredients, it becomes easier to manage shopping trips and keep track of what dishes need to be made. Some schedule makers even feature recipes to get you started and help suggest meal ideas for when you're feeling uninspired. With this powerful tool, creating the perfect meal schedule for yourself or your family is within reach.
Go local
More often than not, great food is right under your nose. In fact, The Spruce points out that some of the best food and drinks are often developed at a local level, usually by homegrown chefs and bartenders from restaurants, bars, bakeries, and farms in your area.
No doubt, you probably have a favorite dish (or 12!) from your favorite local haunts. It definitely won't hurt to slide into their social media direct messages or to email them for recipes. You can even challenge yourself to recreate the meals you love right in your own kitchen. Who knows? You just might nail it, or even do it better.
Get inventive – and keep your appliances in good repair
One way to get really inventive in the kitchen and elevate your cooking is by using a meal delivery service. This is actually a great tool for those who are learning to cook or in need of new recipes to try or just looking for inspiration.
With such a service, you can purchase all-in-one meal kits that have everything you need to prepare them, from ingredients to instructions. Best of all, the best meal delivery services even allow customization according to your budget, tastes, dietary restrictions, and more. It's a great way to get your feet wet or explore new flavors and foods, and many of these services offer reasonably priced options.
You can also get more inventive by investing in a few new budget-friendly kitchen appliances. For example, a slow cooker allows you to combine ingredients to cook delicious meals while you're at work, and many of these meals can be eaten over multiple days. Other popular appliances include an electric pressure cooker or a sous vide machine. Of course, you'll want to make sure all your appliances are fully operational. If any are in need of repair, call on a local appliance repair professional to make the fix so you can optimize your kitchen time. Be sure to read up on customer reviews to ensure the contractors you reach out to are reliable and experienced with repairing the specific appliance.
Don't forget the vino
And finally, don't just stop at cooking. To really take your love of food to a higher level, why not explore food and wine pairings while you're at it? Such pairings are an art form in and of themselves, but Wine Folly explains that you can actually start by learning a few basics, such as differentiating the various kinds of wines based on bitterness and acidity, breaking down taste components in food, and so forth. You can then build up your palate from there.
Cooking with wine is another discipline worth exploring, also with its own methods and rules. As a rule of thumb, you should only cook with wine that you would personally drink, so it's a good idea to have a clear picture of the good (and affordable) ones. You can save on your wine purchases by shopping at discount retailers or buying in bulk.
Indeed, few things are as pleasurable as having one's taste buds satiated, and it becomes even more special when you have the ability to create such pleasures yourself without overspending. So consider these tips to get a headstart on your cooking journey. Your mouth and your stomach will thank you.